The cause of the largest seismic event ever recorded on Mars has been revealed in a study led by the UK.
The 4.7-magnitude quake was detected by NASA's InSight lander on May 4th last year, causing vibrations that reverberated through the planet for six hours.
Initially, it was believed to have been caused by a meteorite impact, which had previously resulted in similar tremors.
However, an international research team conducted a search of Mars' vast surface, covering 144 million square kilometers, and found no evidence of a recent crater.
Published in the journal Geophysical Research Letters, the findings indicate that Mars is much more seismically active than previously thought.
Dr. Benjamin Fernando, lead researcher from the University of Oxford, stated that the results could even provide insights into potential safe areas for human colonization if Elon Musk's ambitions to colonize Mars become a reality.
"We still believe that Mars does not currently have active plate tectonics, so this event was likely caused by the release of stress within Mars' crust," he said.
"These stresses are the result of billions of years of evolution, including the cooling and shrinking of different parts of the planet at different rates.
"Although we still don't fully understand why some parts of the planet have higher stresses than others, results like these help us investigate further.
"One day, this information may help us understand where it would be safe for humans to live on Mars and where to avoid!"
Read more science and tech news:
The rise and fall of BlackBerry
Debunking myths about the flu vaccine
NASA reveals 'incredible' asteroid findings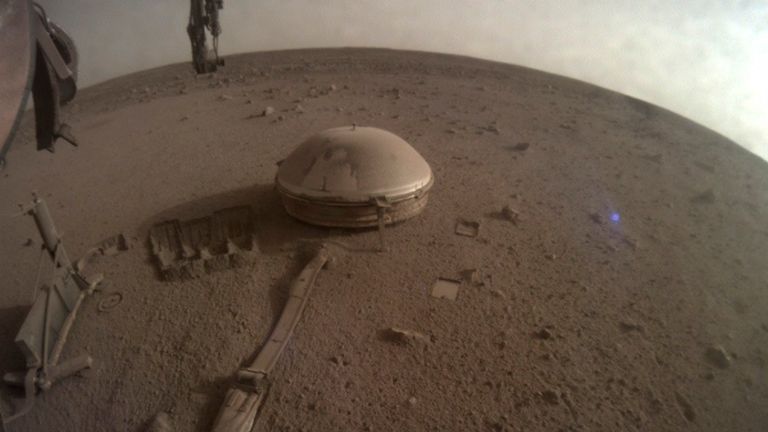 How the search unfolded
The search for a crater following the quake was a massive endeavor.
Although Mars is smaller than Earth, its lack of oceans means that the land surface area is comparable.
The extensive search required collaboration among space agencies and scientists from around the world, including the European Space Agency, the Chinese National Space Agency, the Indian Space Research Organisation, and the United Arab Emirates Space Agency, all of which offered the use of their satellites.
This is believed to be the first time that all missions orbiting Mars have collaborated on a single project.
However, the work was led by Dr. Fernando at Oxford, who stated that it should "serve as a template for productive international collaborations in deep space."
The quake was one of the final events recorded by the InSight lander before it went offline in December, more than four years after landing on Mars.