A group of researchers claim to have identified the cause of the abrupt deaths of hundreds of elephants in Africa in 2020.
In May and June of 2020, over 300 elephants perished in Botswana's Okavango delta, followed by another 35 deaths in Zimbabwe two months later.
Initially, the deaths spurred an international mystery, with poaching and anthrax poisoning as the only ruled-out causes.
Authorities initially attributed the deaths to toxins produced by microorganisms in water and soil, which the mammals ingested, and this was linked to climate change.
However, tests on the elephants revealed that they died from a bacterium called Bisgaard taxon 45, an unnamed relative of Pasteurella multocida, which causes various illnesses in animals.
In the tested elephants, it manifested as septicaemia, or blood poisoning.
Scientists estimate that elephant populations have declined by 144,000 from 2007 to 350,000, with an annual decrease of 8%.
Researchers in the Nature Communications journal stated that Pasteurella multocida had not previously been associated with elephant deaths, but it could now "represent an ongoing phenomenon in this region."
The paper added: "Septicaemia adds to a growing list of disease-related threats to elephant conservation, including tuberculosis, anthrax, elephant endotheliotropic herpesvirus, encephalomyocarditis virus, floppy trunk syndrome, and malicious poisoning."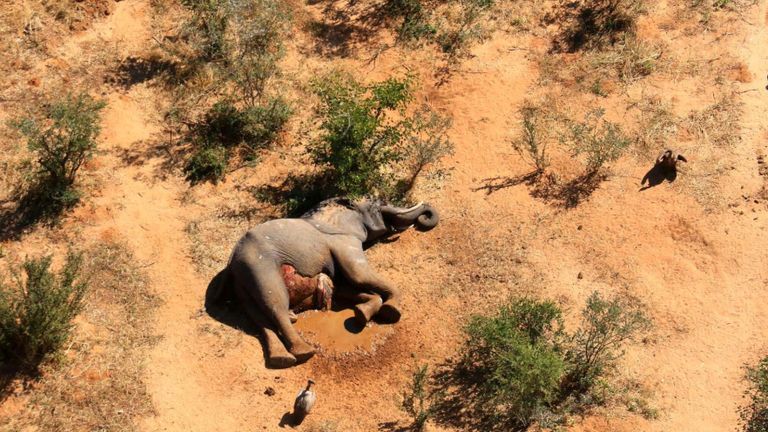 Pasteurella bacteria was previously discovered in a herd of 200,000 saiga antelopes that died suddenly in Kazakhstan, and scientists hope that this case can help shed light on what occurred in Africa.
The peer-reviewed research was conducted by an international team, including scientists from the UK's Animal and Plant Health Agency, the Victoria Falls Wildlife Trust, and laboratories in South Africa.