British astronauts could have the opportunity to travel into space thanks to a new agreement between the UK and a US space company.
The UK Space Agency has signed a deal with Axiom Space, a Texas-based firm that is working on what it claims will be the first ever commercial space station.
Axiom Space has previously sent manned missions into Earth's orbit and to the International Space Station with SpaceX rockets.
If the future flight carrying British astronauts takes place, they would spend up to two weeks in orbit conducting scientific experiments and participating in educational activities.
The trip would be commercially sponsored and supported by the European Space Agency (ESA).
Prior to this, there have only been two British astronauts in space: Helen Sharman in 1989 and Tim Peake 27 years later.
Rosemary Coogan, a Northern Irish astrophysicist, hopes to become the third British astronaut after being selected to join the ESA's training program last year.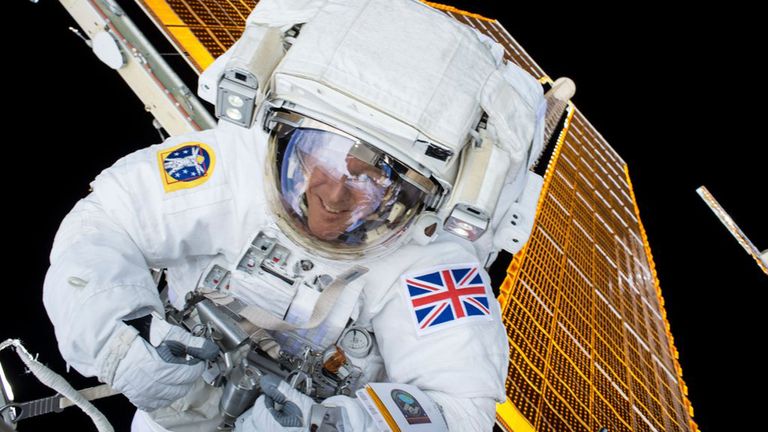 Dr Alice Bunn, president of industry trade body UKspace, described the agreement as "incredibly exciting".
Dr Paul Bate, chief executive of the UK Space Agency, added that it paves the way for more British astronauts to venture into space and "inspire millions of us here on Earth".
Alongside the announcement of the agreement, the agency is inviting British universities, research institutions, and industry to share ideas for experiments that could be conducted during the two-week trip.
It is also exploring the possibility of a national space education and public engagement program.
Read more from Sky News:
Clown 'stalking' village is back for more
Dwayne Johnson 'belly laughs' at new waxwork
Meanwhile, SaxaVord Spaceport in Shetland is awaiting permission to host the first vertical rocket launch in the UK.
It still requires a license from the Civil Aviation Authority, having submitted an application last year.
Spaceport Cornwall is the only British site to have attempted an orbital launch so far, but the highly anticipated January mission ended in failure.